The first set of findings from the NFHS-5 conducted in 2019-20 were released recently. The survey covered 17 states and five Union territories (UT).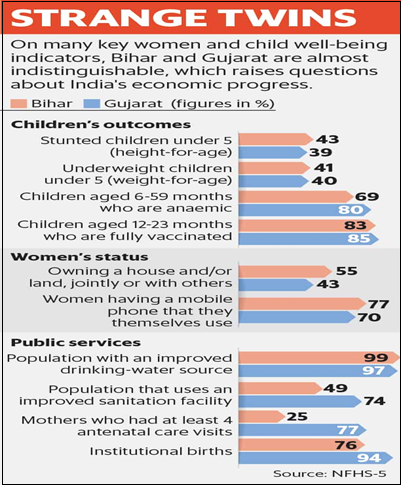 Key Findings
Access to improved drinking water sources increased across all states and UTs except Sikkim, which registered a five per cent fall in the population living in households with an improved drinking-water source in last half-a-decade.
Manipur, Meghalaya and Nagaland witnessed significant improvement among the 22 surveyed states in last five years. Bihar topped the list with 99 per cent population having access to improved drinking water sources.
A majority of states were on the way to achieving universal access to clean drinking water. But despite progress on the sanitation front, several states reported every third or fourth person having no access to improved facilities.
Across all 22 surveyed states, urban residents had better access to improved drinking water sources in comparison to rural population. Manipur, Meghalaya, Tripura and Maharashtra reported widest rural-urban disparity.
Bihar recorded huge improvement in last five years in sanitation, but stood second-lowest among the 22 surveyed states.
But the rural-urban divide persists widely across several states. People residing in urban areas had a relatively higher access to unshared and quality sanitation facilities in a majority of the states except Manipur, Meghalaya, Sikkim, Nagaland and Kerala, where urban population was more deprived. The highest rural-urban gap was observed in Gujarat, Bihar, West Bengal and Karnataka.
Infant and child mortality across most Indian states declined in the past half-a-decade. Sikkim, Jammu & Kashmir, Goa and Assam witnessed a steep reduction not only in neonatal mortality rate (NMR), but in for infant mortality rate (IMR) and under-five mortality rate (U5MR) as well.
Bihar registered the highest prevalence of NMR (34), IMR (47), and U5MR (56) across 22 surveyed states and Union territories while Kerala reported the lowest death rates.
The NFHS-5 report indicated a significant drop in NMR in 15 states and UTs compared to the previous round of the NFHS (2015-2016).
Infant mortality rate has also slipped in most states out of the 22 surveyed states in the first phase except Manipur, Meghalaya, Tripura and Andaman & Nicobar Island. Likewise, these four states and UTs have shown increment in the prevalence of under-5 mortality rates, i.e., probability of dying before age five per 1,000 new borns.
While India has seen a consistent decline in IMR and U5MR, they are still among the highest in the developing world.
Despite being at the bottom in the list of states having high child mortality rate during NFHS-4, Kerala still showed a decrement in child mortality in the recent survey. Goa, Sikkim and Jammu & Kashmir were among the best performers across all three categories.
Rural children were found to be more vulnerable than their urban counterparts in a majority of states. In contrast to other 20 states and UTs, West Bengal and Mizoram showed higher rates of neonatal deaths in urban area as compared to rural areas.
Highest rural-urban gap in NMR and IMR was observed in Manipur, where less than half the infant deaths took place in urban areas than rural areas. Urban areas accounted for almost four times the neonatal deaths than rural areas.
It reported a very high prevalence of malnutrition among children below five, with most surveyed states witnessing significant hike in the same.
India's population is said to be stabilising as the Total Fertility Rate (TFR) has decreased across the majority of the country's states.
Of the 17 states analysed, all states except Bihar, Manipur and Meghalaya have a TFR of 2.1 or less, which implies that most states have attained replacement level fertility.
All 17 states have witnessed an increase in the use of modern contraceptives of family planning. The proportion of women with an unmet need for family planning, who want to stop or delay childbearing but are not using any method of contraception, has declined in all states except Meghalaya and Andhra Pradesh.
States like Manipur, Andhra Pradesh, Himachal Pradesh and Nagaland have shown an increase in the teenage pregnancies. Along with an increase in child marriage, Tripura has also shown an increase in teenage pregnancies from 18.8% in 2015-16 to 21.9%.
Way Forward
To attain the United Nations-mandated sustainable development goal 6.1 (universal and equitable access to safe and affordable drinking water for all) and SDG 6.2 (access to adequate and equitable sanitation and hygiene for all and end open defecation), it is imperative to pay special attention to the needs of women and girls and of those in vulnerable situations by 2030.
Getting ICDS services running immediately should be top priority, along with a resumption in school meals.
There is a need to encourage male involvement in family planning methods.
Several districts in Bihar, West Bengal, Northern Karnataka and Western parts of Maharashtra and Gujarat require special attention and decentralised programmes to address the issue of open defecation.
Although there is substantial improvement in access to clean water and improved sanitation facility, still there is a need to bridge the rural-urban divide.
---
Source: Civil Services Chronicle February 2021
Related and Sponsored Posts