Context
India dropped two ranks in the United Nations' Human Development Index for 2019, standing at 131 out of 189 countries according to the Human Development Report (HDR) 2020 released by the United Nations Development Program (UNDP).
HDI measures average achievement on three basic aspects of human development, life expectancy, education, and per capita income.
Although this year's report covers 2019 only, and does not account for the impact of COVID, it projected that in 2020, global HDI would fall below for the first time in the three decades since the Index was introduced.
Global HDI Findings
Norway topped the index, followed by Ireland and Switzerland. Hong Kong and Iceland complete the top five.
Singapore was ranked 11, Saudi Arabia 40, and Malaysia was at 62 in the global index, representing the top bracket among the Asian countries with "very high human development".
Sri Lanka (72), Thailand (79), China (85) and Indonesia and Philippines (both 107), and Vietnam (117), among others, were "high human development" countries.
India, Bhutan, Bangladesh, Myanmar, Nepal, Cambodia, Kenya and Pakistan were ranked among countries with "medium human development" with ranks between 120 and 156.
In the BRICS grouping, Russia was 52 in the human development index, Brazil 84, and China 85.
India Specific HDI Findings
India's HDI value for 2019 is 0.645, which put the country in the medium human development category, positioning it at 131 out of 189 countries and territories.
India's gross national income (GNI) per capita on the basis of purchasing power parity (PPP), fell from $6,829 in 2018 to $6,681 in 2019.
Life expectancy for Indian's at birth was 69.7 years in 2019, slightly lower than the south Asian average of 69.9 years, but slightly higher than the average of medium human development index groupings in the world at 69.3 years. Bangladesh has life expectancy of 72.6 years and Pakistan 67.3 years.
The expected years of schooling in India was 12.2 years, compared with 11.2 years in Bangladesh and 8.3 years in Pakistan.
Planetary Pressures-adjusted HDI
For the first time, the United Nations Development Programme introduced a new metric called the Planetary Pressures-adjusted HDI, or PHDI to reflect the impact caused by each country's per-capita carbon emissions and its material footprint, which measures the amount of fossil fuels, metals and other resources used to make the goods and services it consumes.
Norway falls 15 places if PHDI metric is used, leaving Ireland at the top of the table. In fact, 50 countries would drop entirely out of the "very high human development group" category, using this new metric.
The oil and gas-rich Gulf States also fell steeply. China would drop 16 places from its current ranking of 85.
India would move up eight places in the ranking.
India's green energy initiatives like National Solar Mission are encouraging. Solar capacity in India increased from 2.6 gigawatts in March 2014 to 30 gigawatts in July 2019, achieving its target of 20 gigawatts four years ahead of schedule. In 2019, India ranked fifth for installed solar capacity.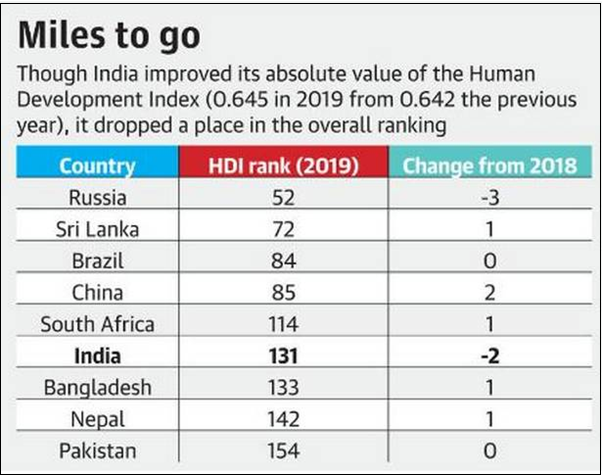 Other Indices for India
Inequality adjusted Index which measures HDI value adjusted for inequalities in the three basic dimensions of human development is 0.475.
Gender Development Index, aratio of female to male HDI values is 0.820.
Gender Inequality Index, a composite measure reflecting inequality in achievement between women and men in three dimensions: reproductive health, empowerment and the labour market is 0.488.
Multidimensional Poverty Index: Based on 2015-2016 data, in India, 27.9% of the population (377,492 thousand people) are multi-dimensionally poor, while an additional 19.3% are classified under vulnerable to multidimensional poverty (260,596 thousand people).
Other Findings
Indigenous children in Cambodia, India and Thailand show more malnutrition-related issues such as stunting and wasting.
In India, different responses in parent behaviour as well as some disinvestment in girls' health and education had led to higher malnutrition among girls than among boys as a consequence of shocks likely linked to climate change.
There is a link between human displacement and anthropogenic pressures on the environment and social inequity. Many people born in areas with low carbon footprints per capita were more likely to migrate to areas with higher carbon footprints.
Placing emphasis on the gender dimension of human displacement, the report noted that disasters killed more women than men on average in 141 countries from 1981 to 2002. Even if women managed to survive disasters, they were at greater risk of displacement.
It noted that while migration was an adaptation strategy, social inequalities often persisted even after people moved.
Female migration intentions increased with the severity of food insecurity. Changes in rainfall affected how women allocated time to paid work, unpaid care work and education. Girls could be forced to drop out of school to engage in household duties.
Conclusion
Evidence from Colombia to India indicates that financial security and ownership of land improve women's security and reduce the risk of gender-based violence, clearly indicating that owning land can empower women.
Many local initiatives, several led by women, had been successful in reducing planetary imbalance. For example, Kerala's Kudumbashree project empowered women farmers, fishers and grazers to assume leadership in public decision-making.
There is a need for humanity to redefine 'progress' in the light of the novel coronavirus disease (COVID-19) pandemic by working with nature, rather than against it.
---
Source: Civil Services Chronicle February 2021
Related and Sponsored Posts